MEDIA APPEARANCES BY FOUR PAWS K9 TRAINING AND DIRECTOR, TRISH HARRIS
Here is a collection of past and current media appearances by Four Paws K9 Training and director Trish Harris.
To book Trish Harris, or to feature the services of Four Paws K9 Training in your media program or production, please complete the form in the Contact Us page or call 0412 523 998.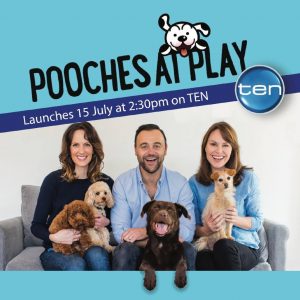 Pet and lifestyle program on TEN, featuring Gynton Grantley and Lara Shannon.  Trish Harris features weekly providing dog training and behaviour tips and pointers.
Series 1, episode 1 – Saturday 15th July 2017
Be careful what you reinforce! (Inadvertent reinforcement)

Series 1, episode 2 – Saturday 22nd July 2017
The importance of puppy socialisation

Series 1, episode 3 – Saturday 29th July 2017
Collars and harnesses for dogs that pull

Series 1, episode 4 – Saturday 5th August 2017
Crate training a dog

Series 1, episode 5 – Saturday 12th August 2017
How to approach a dog safely

Our Locations
0412 523 998 or 0408 145 758