Is your dog growly (aggressive) towards other dogs? Then help is at hand!
We know how frustrating and disheartening it is just taking your dog out for a walk or any place where there are other dogs around. Your dog's thrashing at the end of the leash, growling, snarling and snapping at the air towards other dogs isn't a pleasant experience for anyone involved. Or your dog might be, what we refer to as, the "silent assassin"… these dogs don't emit any warning signs, they just lunge and bite unexpectedly.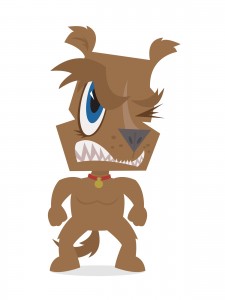 Whatever your dog's reaction or the reason for it, it's important that you the owner, learn how to properly handle/manage your dog when out in public and most importantly, understand all the principles required to help rehabilitate your dog.
Our 'Growly Grovers' program is an intensive 4 session program designed to assist you and your reactive dog.
Important Note: There is NO such thing as a "quick fix" when it comes to reactivity issues… and if a "quick fix" seems to work, it is almost always temporary, with the behaviour returning at some stage…and, in many cases, worse than before.
Depending on the severity of your dog's reactivity, it can take a number of months before your dog is confidently walking past other dogs, without looking as though he/she is thinking of lunging/attacking.
Here's how the Growly Grovers program works
The 4 sessions:
Session 1 comprises:   theory component only, no dogs required for this
Session 2 comprises:   assessment of your dog and commencement of the practical exercises.
Session 3 comprises:   continued practice of the specific exercises
Session 4 comprises:  revision, continue working on practical exercises, commence working with and round other dogs (this will depend greatly on how dogs are progressing), discuss 'where to from here' and conclusion.
What is covered:
Why does your dog react around other dogs?
Recognising body language and signals from your dog
Correct and safe handling
Specific exercises to assist in the management / rehabilitation of your dog
What to do in emergency situations
Real life
You will receive guidance, assistance and support from our Govt approved, Four Paws K9 Training dog trainers for the duration of the course.
The course will also make the transition into group based obedience classes much easier for your dog.
2019 Growly Grover Course Dates
NOTE:
Due to a number of commitments, the Growly Grovers group program will not be offered this year.
As an alternative we can offer you one or more private, condensed version of the program.
Details are:
Single 1 x 1.5 hour private session $250
OR
1 x 1.5 hour private session plus 1 x 1 hour follow up session $450
Diggers Rest location (you come to us).
Monday to Friday b/h only
Short interview with theory session
Assessment of your dog's reactivity
Specific exercises taught and practiced to assist with management and rehabilitation of your dog (includes what to do in emergency situation, handling and counter conditioning activities)
Send us an Enquiry
To book in for Growly Grovers program (future group sessions or private session) please send contact us using link below.
Note: Group sessions are very small…max 4 dogs!
Here are some comments from some of our Growly Grover's participants:
A brilliant tool not just for dogs but for life.  I was able to relax more with my dog rather than panic and know that Kato will be okay.

This course has given me so much hope to continue for walking and further training with my dog.

Fantastic course…all should do!
So what are you waiting for?  If you're interested in making the change, either
Contact Us
for more details or complete the
Contact Form
and we will call you. 
You owe it to your dog!
INTERESTED IN TRAINING AT OUR KEILOR DOWNS VENUE?
Bookings for Information Sessions for our Keilor Downs venue now being taken.
NOTE: CLASSES CANCELLED UNTIL LOCKDOWN LIFTED
Please see our Facebook page for further details or subscribe below to our newsletter!
Please contact us to be placed on the list!
Contact Us to book in for an Information Session at Keilor Downs.
Our Locations
Ph: 0412 523 998