5 Weel Boot Camp courses for dogs –offered at Parkville, Craigieburn, Mount Waverley and Geelong.
The 5 week intensive basic foundation course is for dogs from 5 months of age plus.
The course provides your dog with basic obedience commands and increases your dog's socialisation skills. It will also assist in addressing some general, common behaviour issues such as jumping up and manners when greeting etc.
Parkville
Next Course Commences:
TBA
Brens Drive, Royal Park, Parkville
Sunday Mornings 10.00am
Greenvale
Courses commence:
Wednesday 2nd August 2017
Bradford Avenue Reserve
Bradford Avenue, Greenvale
Wednesday evenings 7pm
Geelong
Courses commence:
TBA
East Geelong Primary School
Boundary Road, Geelong
Sunday morning, 10am
Mt Waverley
Courses commence:
Sunday 20th August 2017
Mt Waverley Heights Primary School
Huntingdale Road entrance, Mt Waverley
Sunday mornings, 10.30am
Contact us to be placed on our database or to enrol in the next upcoming course.
Bookings now being taken. Max 10 dogs!
What your dog will learn during Boot Camp:
Sit
Focus (look at me)
Drop
Learning to walk on loose lead
Name Recognition
Recalls (coming when called)
Socialisation activities
General behaviour problem solving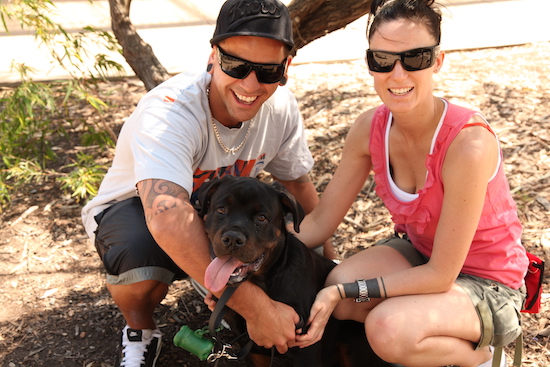 The other important things you need to know about:
Your dog must be up to date with all vaccinations and boosters in order to attend
Please contact us for pricing details.
You must be able to commit to the entire 5 week course…sorry no catch up sessions for missed classes!
A Certificate of achievement will be presented on the last week
This course is not suitable for dogs with severe reactivity issues
Interested in enrolling your dog with us for a 5 Week Boot Camp training course??
Important Note: Boot Camp courses do not provide you with Victorian Govt standard of training certificate.  The Victorian Govt standard of training Certificate is only attainable at our Keilor Downs location.  For more information on this, please contact us.
Please go to the Contact Us page for more details or complete the Contact Form.
INTERESTED IN TRAINING AT OUR KEILOR DOWNS VENUE?
Bookings for Information Sessions for our Keilor Downs venue now being taken.
Current available Information Session dates:
Saturday 22nd July 2017
Saturday 29th July 2017
Don't panic if you cannot make any of these sessions, we run Information Sessions every Saturday morning after these dates....however bookings are essential.
Contact Us to book in for any Information Session at Keilor Downs.
Our Locations
0412 523 998 or 0408 145 758