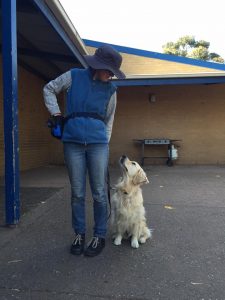 To all the 4 Paws K9 training team,
We would just like to thank you all for what you have done in showing us humans a fun and engaging way to elicit reliable and socially acceptable behaviour from our 2 young dogs.  From the initial phone call to Trish regarding our "pocket rocket" Marni who would yank at the end of the lead to party with any dog she met, to the Masterclass  weekly sessions with both Marni and our gentle boy Beethan which were always stimulating and fun while developing higher level skills – we have enjoyed every moment.
We will be eternally grateful to KerriAnne who started our journey towards being calm enough to attend a dog class without Marni completely losing her mind.  Her calm encouragement inspired confidence that we would be able to get through the mad excitement in a positive way and Marni has never looked back.  Week after week at the Keilor campus we found all the trainers positive and helpful and with a fresh way to look at eliciting happy responses in our training.
We have spent a winter doing tracking practice on the weekends and Marni was able to gain her tracking dog title and then got her first step towards her TDX before the end of tracking for the year.  Beethan has been training and will start trialling next year after the tracking workshop.  Now that tracking is over we had to decide what to do next and we have decided to continue with Dancing with Dogs as we all love it, and to start looking to trial in Rally in the future.
We wouldn't have been able to make these choices without the fabulous training foundation that you have given us, as we use your methods regardless of the context and the dogs understand how to learn that way.  The patient and positive nature of the training makes it fun for all of us.  It has helped my thinking a lot in Dancing with Dogs and both Marni and I celebrated the other day as she walked backwards 4m and then did a spin in place all on verbal command.  We often get asked where we trained our dogs and have recommended you highly to everyone.  Marni and Beethan would like to pass on wiggly hugs to Barkly, Logan, Gertie, Leroy Brown and a gentle distant glance for Sniper.  James and I wish you all the best in helping produce a positive happy canine community.
Thanks once again, Denise, James, Marni and Beethan.